See on Scoop.it – What I'm thinking about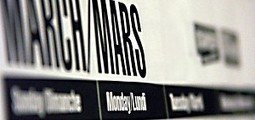 What happens in the next 30 days will almost certainly determine your success for the rest of the year.As an Irishman (a real one ' I was born and lived there for 40 years), I know that March is supposed to be a lucky time–you know, Paddy's day,…
Kimberly Togman's insight:
Time to evalutate your year. Inc, tells us that March is the key month for reviewing projects and identify how best to leverage your limited resources. A practice that, to my mind, is one that should be done more than at the close of each quarter.
Set up practices to evaluate initiaitves on an ongoing basis. Organizations that do this well also think into the future and do pre-mortems ( take a vantage point of 6 months to a year from now and consder that the project failed….what likely was the cause of the failure?) and pre-parades (same drill but look at causes for its success). What you learn from these drills could alter the course of a project and head off significant obstacles.
See on inc.startup.floost.com